BOTTARGA SPAGHETTI with LEMON ZESTS and BREAD CRUMBLES
10 oz. (280 g) spaghetti
5 oz. (100 g) fresh mullet bottarga
1 clove of garlic
4 tablespoons Panko bread crumbs
1 lemon
1 tablespoon fresh parsley minced
8 tablespoons extra-virgin olive oil
5 tablespoons cooking salt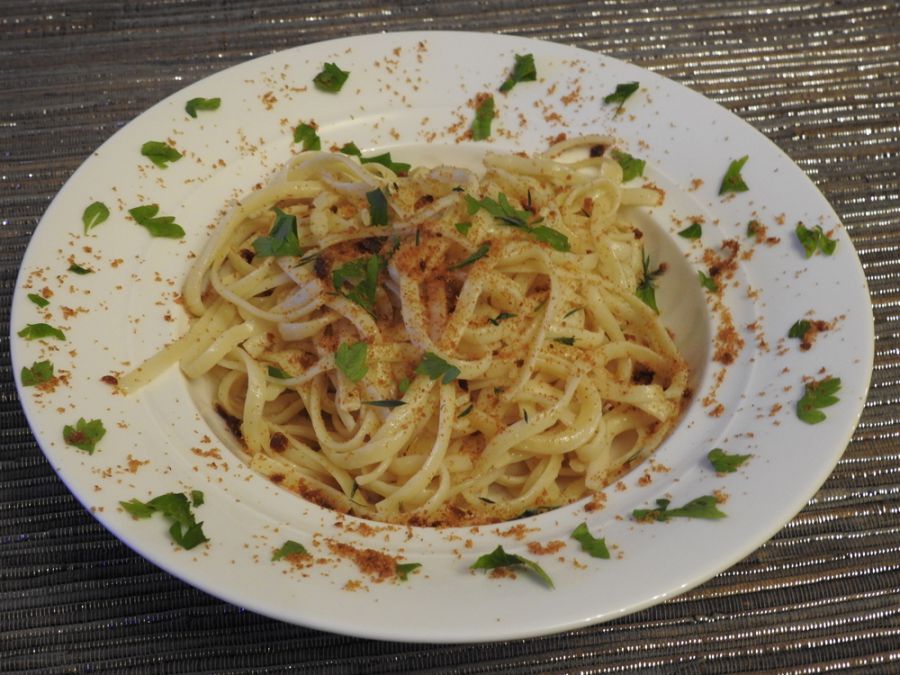 FRIED BREAD CRUMBS
First of all, pour 6 tablespoons of extra-virgin olive oil in a little pan and place over medium heat. Fry the Panko bread crumbs into the hot but not smoking olive oil until golden, constantly stirring. Finally, dry them over paper towels. Pay a big attention frying the bread, it cooks very quickly and is easy to burn!
BOTTARGA SPAGHETTI!
Fill a pot with 5 qtr. of water, then add the cooking salt and place over high heat. Now, peel and slice the clove of garlic finely, and pour it in a pan big enough to sauté the spaghetti once cooked. Add 2 tablespoons of olive oil in the pan and heat over minimum flame, until the garlic is soft, stirring occasionally. Meanwhile, grate the bottarga and the yellow part of the skin of the lemon, then mince the parsley, and combine all together.
Once the water is boiling, cook the spaghetti and raise them "al dente". Finally, toss the spaghetti with the garlic and oil over medium flame, then add the bottarga mixture and toss the pasta again far from the heat. Eventually, add the fried Panko crumbs over the bottarga spaghetti and serve immediately.